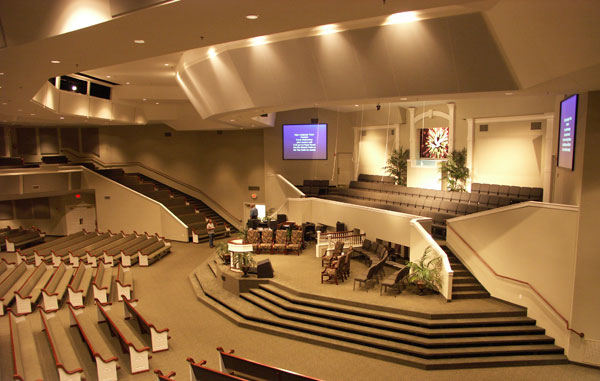 Emmanuel Pentecostal Church • Mesquite, TX
1100 seats • Sound Reinforcement System Design
Driven by Design
Please know that each member of our design team has spent years working in a leading role on the production staff of their church. We know what it's like to lead a tech support ministry. We know firsthand the sacrifices that need to be made. We understand what it takes in equipment, knowledge and experience to deliver technical excellence in every worship service and major production.

That experience shows up in the little things. Like when we make a choice on where to place a floor box on the platform, or choose how to arrange the equipment in the production booth, we're not just throwing lines on paper and hoping for the best. We literally take an imaginary walk across the platform, thinking about how we — as operators — would use the area. When we design the production booth, we imagine ourselves actually operating the gear during a worship service.
Room Acoustics
Choosing the right acoustic signature for your sanctuary is pivotal to creating a worshipful environment. Which direction to lean the room acoustics depends on your primary use of the space. A traditional style of worship music typically calls for a room that is live and reverberant, while a contemporary style of worship music often works best with a "tight" room. The spoken word is best understood in a room that is acoustically live yet absorptive. We work with some churches that have multiple services which vary between traditional and contemporary music styles, and want the room to serve both needs. As part of your design team, we work with your architect to ensure that the acoustics of the space are right for your style of worship.

HVAC System Specification
Mechanical noise can play a critical role in the perceived intelligibility of the sound system for speech as well as the warmth of music heard in the space, and yet we find major flaws in the design of mechanical systems on a high percentage of our projects. See all those huge air ducts in the Cross Timbers photo? That room could have been a very hostile environment for worship had we not held our ground on the requirement to achieve a specific Noise Criteria value. We can provide the Church with target noise figures for your Heating, Ventilation & Air Conditioning system designers to consider during their design of the HVAC systems that will serve your new auditorium. Once those plans are submitted, we can perform a detailed study of the HVAC and mechanical systems design from an acoustics perspective to confirm that the auditorium will have an environment that is conducive to worship.

Sound Reinforcement System Design
We design loudspeaker systems using various computer models and engineering tools that allow prediction of results before the construction begins. We are painstakingly thorough during this process to ensure that every seat in your auditorium will be a great place to worship. A computer cannot tell what a loudspeaker sounds like, so we make it our business to listen to as many different products that we possibly can. Our ability to craft great sounds comes from our experience with mic technique, mixing technique, and the tasteful use of effects processors. That background is poured into our choice of equipment for your Front-of-House production booth, along with how that equipment is laid out.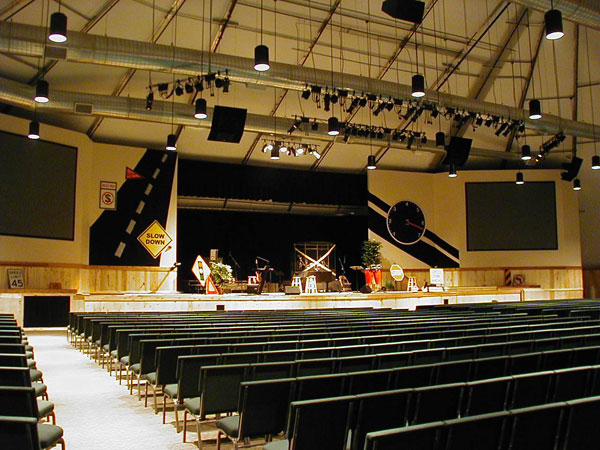 Cross Timbers Community Church • Argyle, TX
1500 seats • Acoustics, Sound, Video & Production Lighting
Video System Design
The use of video graphics for sermon support and to lift the eyes of the congregation off the hymnal and up toward Him is exploding in the church today. The technology for both the video equipment and the graphics software is advancing daily, and we find ourselves continually striving to stay in touch with manufacturers so that we can bring only the best of the latest technology to our clients. The use of video graphics specifically in the church has given birth to no less than ten different software products for managing the lyrics and sermon notes.

Production Lighting System Design
Proper lighting for the main platform can have such a powerful impact on the worship environment. Gone are the days of placing can lights in a ceiling and calling it done. Just like a loudspeaker, we need lighting fixtures for the main platform that are controllable, that allow us to put light where it needs to be, and keep it off areas we do not want lit up. Our design documents include complete details for the choice and placement of the production lighting instruments, along with the technical details needed to ensure that the production lighting system is properly installed, and that it integrates with the house lights in order to provide your tech support team with full production control of the lights in the sanctuary.

The auditorium lighting for most projects is designed by the engineering firm working for the architect, however TMS will ask for the liberty to review those plans from a production perspective and to choose how those house lighting fixtures are circuited to best suit the needs of weddings, funerals, and smaller meetings in the sanctuary.


Training Your Technical Support Team
It's not enough for us to design a great system, make sure it's installed properly and then walk away. Not only is it in our best interests from a business sense to make sure that your team is fully trained on the gear, but training church tech support teams has been a pivotal emphasis of TMS since we started in 1981. We have trained literally thousands of music pastors, production staff and tech support volunteers how to get the best results using the gear they have to work with.

It is our heart to share our knowledge with those who will be operating the systems that we design for your church. As part of our consulting project with your church, we will bring our full training efforts to bear on your tech support team, leading them to a newfound confidence and a clear understanding of their role.
ChurchSoundcheck.com
To illustrate just how strongly we believe in training church tech support teams, take a look at our website at www.ChurchSoundcheck.com. We published a magazine for churches called Clarity, and later changed the name to Soundcheck from 1987 to 1990. In 1997 we revived that training effort via the Internet by launching that website. Many of the articles that were a part of our magazine found their way onto our website, along with lots of new information.

An integral part of our website is our ChurchSoundcheck Discussion Group. This email-based discussion group has grown to literally thousands of members in 16 countries at last count, and averages 100+ emails each day. Our objective is to communicate technical excellence to the church.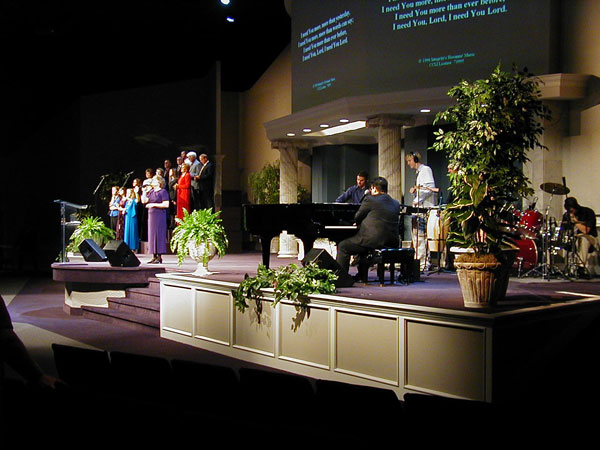 Living Bread Fellowship • Washington, MO
800 seats • Acoustics & Sound Reinforcement System
Whether your church is just starting a new building project, or you want to renovate your current sanctuary, just let us know. We can help you achieve the level of technical excellence that you have envisioned without losing sight of your budget realities. Call or email us today!